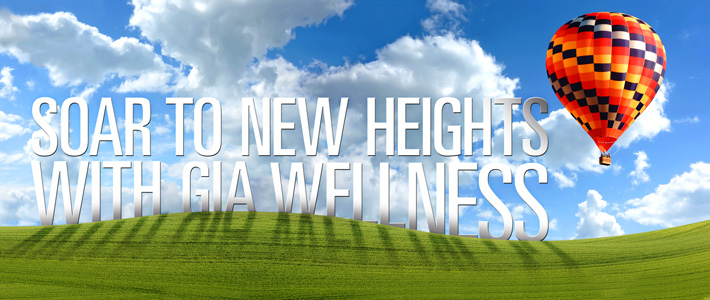 Breakthrough Training
The GIA Wellness Breakthrough Training is a transformational event/seminar/experience that has already enriched the lives of thousands of people around the world. Encompassed by the principles of Vision, Belief, Personal Responsibility, Team, Gratitude, and Desire, every person walks away from the training with a greater sense of possibility and belief in themselves.
Our company's vision and purpose includes much more than transformative Wellness Products and a powerful Abundance Plan. GIA Wellness offers an "inspirational" connection to every independent Consultant, customer and person seeking to grow as an individual. This area of GIA can be seen, felt, and heard throughout GIA's literature, website, phone conferences, webinars and live events.
Breakthrough Principles Overview
Break through limiting beliefs and live the life you've always wanted. So often in life, we are the ones who place limitations on ourselves. Watch as GIA Co-CEO, Lynda Cormier-Hanser speaks about the 6 core principles that will help you live to your fullest potential!
It can be difficult to describe the many effects of the Breakthrough Program – the cornerstone of GIA Wellness leadership and personal development program – because its impact can be immeasurably profound. Every person comes to the Breakthrough event with unique life experiences, and yet EVERY person leaves the event with a greater sense of self, of individual potential, and the support and power of a team. The Breakthrough Training is a testament to the dedication and vision held by the GIA Wellness Management Team for creating a legacy that includes bringing out the very best in people. In GIA, we believe that companies do not grow unless people grow.
GIA's Breakthrough Training Offers:
A clear VISION PLAN to put into action as a new and powerful way to expand each person's individual leadership
An exciting new level of POSSIBILITY BELIEFS you can use immediately to strengthen relationships, break through fears, and improve performance
A truly extraordinary PASSION for TEAM!! GIA Co-CEO, Lynda Cormier-Hanser's events are the most highly-rated TEAM-BUILDING seminars in the country
New understanding of how to COLLABORATE effectively – the key to synergy and fighting burnout
Fresh clarity about how to build more BALANCE into your life
More enthusiasm and energy than ever before
A powerful dedication to the power of appreciation, recognition and acknowledgment
A foundational commitment to breaking through sub-grouping and separating within teams. The organization will view itself differently, as a CONNECTED and SUPPORTIVE RELAY TEAM!
Wonderful new connections with teammates through the exercises and activities
NEW HOPE!
Joy!
I have been around this industry for over 20 years, I can honestly say that I have NEVER experienced a dedication to personal growth and an expertise that Lynda Cormier brings to GIA Wellness and…
J.W., San Diego, CA
I definitely feel like I broke through self doubt. I feel like I learned that anything is possible, and I can actually do anything if I put my mind to it. Learning how to forgive…
One teenager who attended a Roots & Wings event
The 'inspiration' element of GIA Wellness is often sensed by new people, but it is a treasure and a gift that continues to grow over time. The result – people grow and evolve and become…
J.W., Dana Point, CA